Vehicle Recovery
Services
Whether you've broken down, got stuck in a car park, or need support collecting your car from the salvage depot, Combined Towing is the team for you.
With over 40 years' experience servicing the Sydney metro area and the largest fleet of tow trucks in NSW, we can accept both urgent and non-urgent bookings to help you get back on the road in no time.
Among our recovery services, our fleet can accommodate:
Low clearance vehicles: with a dedicated truck and tilt-tray to handle lowered and speciality vehicles
Prestige cars, motorbikes, vintage cars, and racing cars
Multiple cars: several of our trucks can accommodate two car collection if the need arises
Need to get your car to the repair shop? We help you every step of the way–no matter your reason for calling our team.
The Combined
Towing Process
Need help with vehicle recovery or extraction? This is how we work.

Vehicle Recovery Services
Upon arrival, we'll complete an initial evaluation and determine the best course of action to safely and efficiently recover your car. Documentation is completed every step of the way to support insurance claims.
Car Park Extraction
Stuck in a spot too small? We have specialised trucks that can help get you out of a tight spot.
Vehicle Salvage and Removal
Is your car ready for the junkyard? If your vehicle has reached the end of its life, we can help get it from point A to B.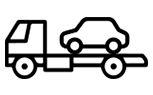 Repossession
Going through a challenging time? Our team can support you through the repossession process so you can get back on the road.